Tochu is a native Chinese deciduous tree the only species of Eucommiales order, Eucommiaceae family. It is dioecious and is also called a living fossil that is the oldest tree in the world along with meta-sequoia and ginkgo. In addition, the bark of Tochu has long been used as one of the three major Chinese herbal medicines (Tochu, deer mushrooms, and ginseng) for antihypertensive, diuretic, tonic, and analgesic purposes. It is a Chinese herbal medicine whose efficacy and usage are described in the Chinese pharmacy book "Compendium of Materia Medica" written at the end of the 16th century. The lignan component contained in Tochu's bark has been proven in modern medicine to be useful for anti-stress, menopause, lowering blood pressure, and nutritional tonicity. In addition, in Japan this is in designated as a medication and prescribed for improving rheumatoid arthritis and neuralgia.

Tochu Cha tea leaves of Hekizanen are grown organically in the nature of Aikawa Town. The tea leaves of Hekizanen bathe in the summer sunshine and grow large leaves that contain abundant useful ingredients that are important for good health. The leaves are carefully hand-picked and immediately dried specially in the factory. Since Tochu Cha leaves begin to ferment and lose its beautiful color and nutrients after harvesting, Hekizanen uses a special manufacturing method to prevent this and processes it into beautiful green matcha without losing any nutrients.

Since the nutrient rich Tochu Cha tea of Hekizanen can be consumed as a whole without leaving any ingredient by pouring hot and cold water or mixed with green tea. It is also used not only as a drink but also as a cooking ingredient and has been well reputed.

Tochu leaves of Hekizanen are rich in iridoids such as geniposidic acid and asperuloside, polyphenols such as chlorogenic acid, various vitamins and minerals and spotlighted as a dietary supplement.
| | | |
| --- | --- | --- |
| | Tochu Cha tea (Eucommia Tea) of Hekizanen | Examples of other commercially available fermented Tochu Cha tea |
| Form | Green powder | Tea leaf |
| Total amount | 14% | 1% |
| Geniposidic acid | 68mg | 4.4mg |
| Asperuloside | 65mg | 2mg |
| Polyphenols | 4.5% | 2% |
Active components contained in Tochu Cha tea (per 1g of dried leaves)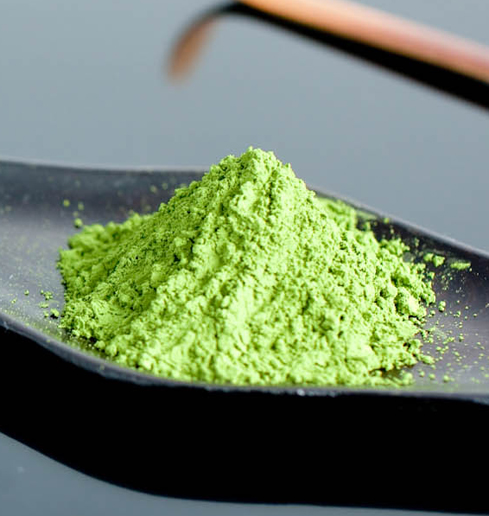 Beautiful green Hekizanen's Tochu Cha tea