Hekizanen Co., Ltd.
President: Chieko Yasuma
Category: Agriculture
Aikawa Town, Aiko, Kanagawa, Japan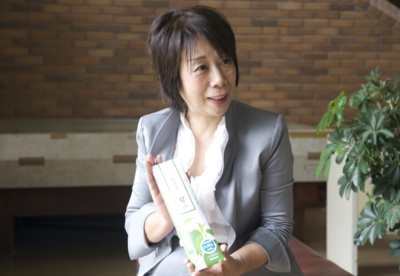 Technology collaboration by industry, academia and government to support the sixth industrialization utilizing Tochu
The owner Chieko Yasuma was born in Kanagawa, Japan in 1951.
In 2003, Chieko first found out about Tochu Cha tea at Ehime, Japan and was impressed by its deliciousness. This encounter combined with the desire to create a new industry in Aikawa Town, where idle farmland was increasing, she proposed "Grandpa & Grandma's Tochu Cha Tea Cultivation Project" to Aikawa Town's "Townspeople Idea Town Development Project".
The idea was adopted, but Chieko was a managing director of her husband's construction company, had no experience in processing and sales, including agriculture. Due to this, Chieko sought technical advice from various institutions and experts in order to proceed with the Tochu cha tea cultivation business. The project, which began with the production of special products for town revitalization, eventually involved local organizations, governments, university professors, and even junior high and high schools, and developed a sixth industrialization that brought together their respective technologies. Hekizanen's Tochu Cha tea is beginning to attract attention as a nutritionally functional food.
(July 7, 2015, coverage / shooting / RPI)

Business starts with town development by Tochu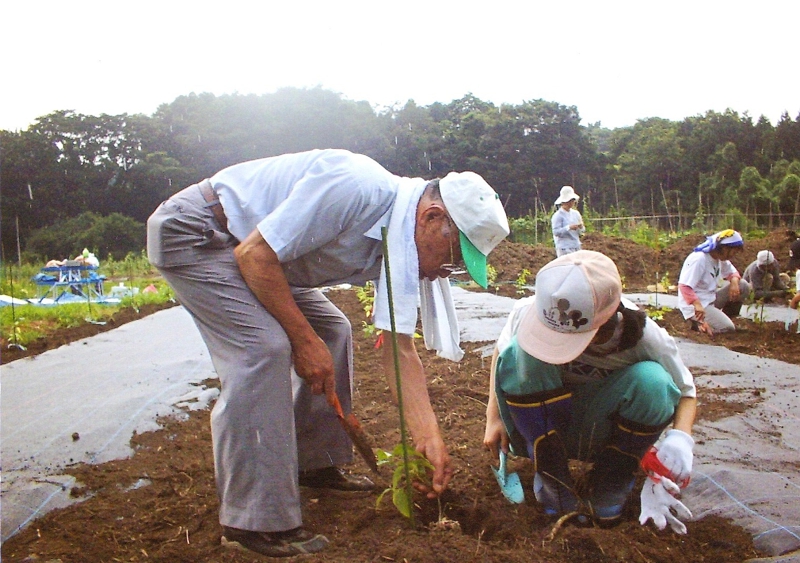 The idle farmland was leveled and cultivated with the project members and a tree-planting event was held with the participation of local students from Aikawa Junior High School. This sixth industrialization utilizing Tochu of Chieko was triggered in 2003 when she proposed an idea to the "Townspeople Idea Town Development Project" in Aikawa Town. Sericulture has been flourishing in Aikawa since the Edo era of Japan, but has since declined. The mulberry that feeds the silk moths is no longer used, and idle farmland has increased. She wanted to start a new industry which was something unique to Aikawa Town so she proposed "Grandpa & Grandma's Tochu Cha Tea Cultivation Project". The concept is that elderly people of the Aikawa Town's association of the elderly, planting Tochu and enjoy drinking finished tea together and to leave this project to the next generation of children.

 Chieko stated that since Tochu could be cultivated without pesticides, it did not affect the environment of Aikawa, and since it was said to be good for the health, there was also a desire to help reduce medical expenses that increase due to aging. The idea was selected as one of the town's support projects, and the citizen group "Aikawa Town Group to study health" represented by Chieko and the local elderly group "Tashiro No. 2 Longevity Association" played a central role. The project started with the restoration of farmland.

For maximizing functionality of Tochu by expanding the circle of cooperation and establish production and processing technologies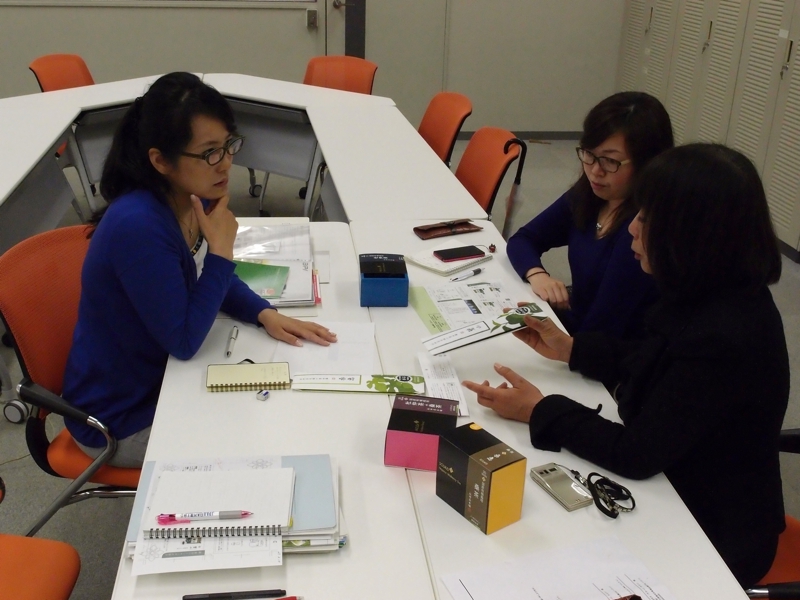 Kanagawa Industrial Technology Center provides comprehensive support for the sixth industrialization of Hekizanen including technical support related to improving the quality of functional foods, management advice for commercialization and sales, establishment of corporate philosophy, and sales methods. The idea of community development will be developed as a business, but Chieko has never been involved in agriculture, food processing, or sales, so she sought technical advice from various institutions and experts.
First, regarding the cultivation technology of Tochu, she received support from the Kanagawa Prefectural Agricultural Technology Center and the production group of local farmers. It was said that cuttings in Japan were impossible and even the rooting of Tochu was slow with cuttings, but in 2009, cuttings were successfully done, and excellent strains could grow. In addition, the saplings of Tochu (Eucommia ulmoides) were originally ordered from Innoshima, Hiroshima, Japan, but it has been succeeded in germinating the seeds of Tochu grown in Aikawa Town and making them into seedings. This made it possible to harvest the leaves that are the raw material for "Tochu Cha tea from Aikawa".

Nutritionally functional foods attracting attention due to pesticide-free cultivation and patented manufacturing methods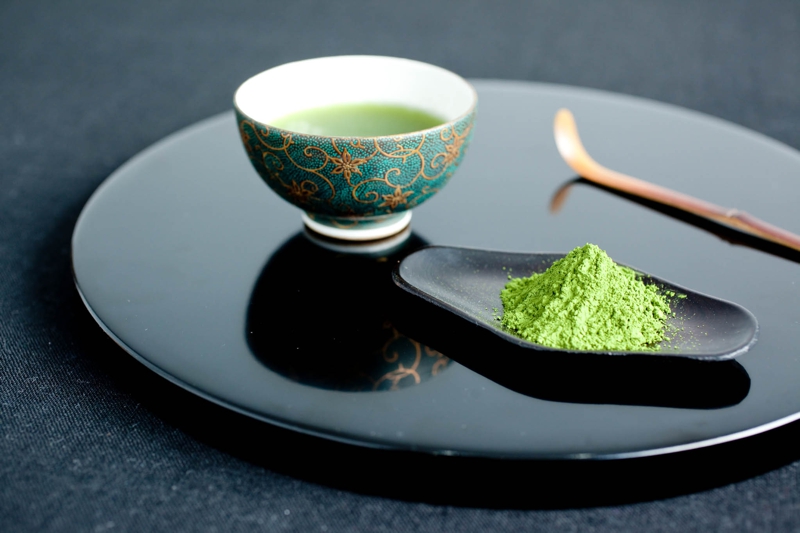 Green powdered tea by our own technology to create the true color of Tochu leaves "Hekizan" (100% pure Tochu Cha tea), the first processed product of Hekizanen With the support of the Kanagawa Industrial Technology Center, Hekizanen established a manufacturing method for drying the leaves of Tochu in green, and obtained a patent in 2008 to differentiate it by technology. As a result, the sixth industrialization of Hekizanen, which utilizes Tochu, has begun to move significantly. With the addition of major department stores to the sales channel, Tochu Cha tea from Hekizanen has been attracting attention as a nutritionally functional food.
Regarding future business development, Chieko said, "First of all, we would like to promote joint research with teachers of each university and develop new products such as supplements with the aim of displaying the functionality of Tochu Cha tea. Development and sales expansion will be a driving force for regional revitalization as a new form of urban agriculture. I would like to earn research funding and promote the production of high-quality food products proved by evidence. "
Furthermore, research groups such as the Kanagawa Prefectural Institute of Public Health found the effect of reducing the risk of lifestyle-related diseases from our Tochu Cha tea through animal experiments, and elucidated the mechanism at the genetic level. In addition, at Yokohama City University, Teikyo University of Science, and Ibaraki University, research on metabolic syndrome suppression by Tochu Cha tea and research on anti-cancer are also being conducted.


Building a business that will be passed down for generations to come created by the people of Aikawa Town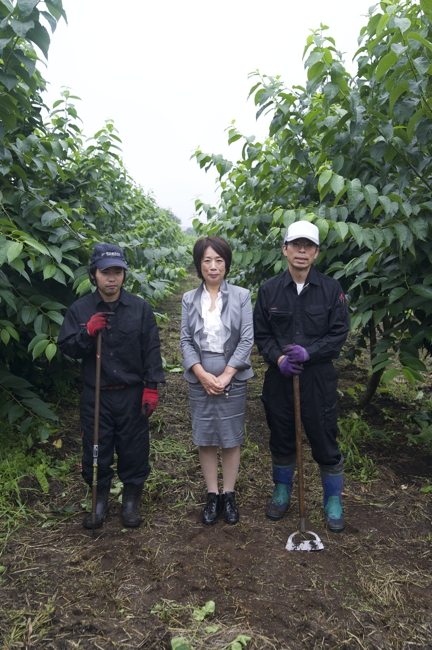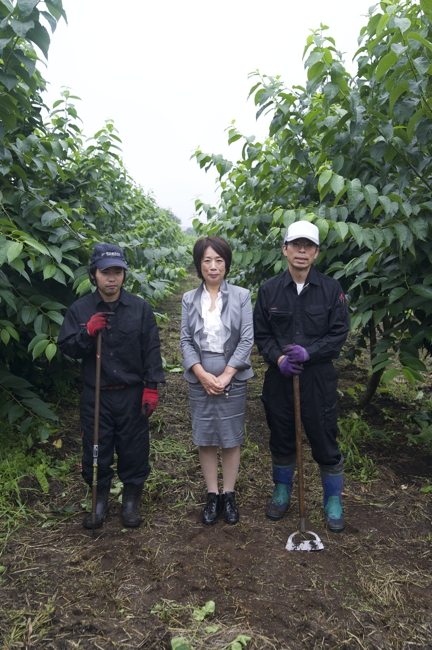 Ms. Yasuma set up an NPO, Zuiho, which is engaged in Tochu cultivation alongside Hekizanen and promotes the employment of people with disabilities."Tochu-eucommia ulmoides has long been said to be one of the five major Chinese herbs in China. The wonderful effects have been proved once again by the research of specialists. It's more than I expected." Ms. Yasuma said feeling the enormous potential of Tochu Cha.
The current sales of Hekizanen are about 15 million Japanese yen, but it aims to reach 200 million Japanese yen within five years. Ms Yasuma also said "In the future, we will aim to be the top in both quality and production of agricultural products in Kanagawa, Japan. Eventually we will also consider overseas markets." In addition, Hekizanen currently employs three people with disabilities. However, Ms. Yasuma is convinced that people with disabilities can play an active role in the harvesting and processing of Tochu leaves. Hekizanen would like to create an environment where people with disabilities and the elderly can work comfortably and further promote equal opportunity employment.

"It's been 12 years since the business started and the junior high school students who participated in the first tree-planting events are now good members of society. I want to lay the foundation for this as a business connecting to the next generation, " said Ms. Yasuma. In order to solidify the foundation, she applied for registration as a local brand because she wanted this to be a product loved by the locals. In 2015, Tochu Cha tea of Hekizanen was certified as "Aikawa brand" by Aikawa Town.